Social Payment fastacash Secures A Total of US$8.5 Million Funding.

A Singapore-based global platform provider, fastacash, has recently announced that it has successfully gained an additional round of financial funding that was led by new investors Jagdish Chanrai, Principal of the Kewalaram Chanrai Group and Golden Oriole Investment, together with participation from existing investors.
Funding.
fastacash shall use these recently acquired funding to accelerate their product development and deployment, Prior to this, the company had secured $4.6 million from a Series A round of funding that was led by Jungle Ventures, Spring SEEDS Capital, the investment arm of SPRING Singapore, and Hong Kong-based Funding the Future (FTF). This brings the total funding amount of $8.5 million.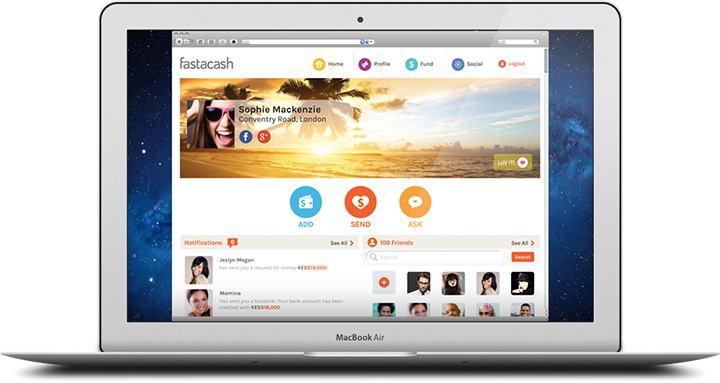 fastacash has also cultivated five additional strategic partnerships since December 2013, expanding its global reach rapidly. The five new partners include SKRILL, a global online payment and money transfer company, OXIGEN, India's largest payments service provider which currently offers an e-wallet for bill payments, mobile top-up, tickets and hotel bookings, MOBI.DENGI, a Russian payment service provider enabling bill payments and purchases across mobile, IMPERIAL BANK, a leading Kenyan bank; and TECHOMBANK, one of the largest private banks in Vietnam.
"We are very pleased to share that over the past few months, we have progressed positively towards creating a fastacash[TM]network of global partners. Together with our partners, we are gaining a strong worldwide presence," said Vince Tallent, Chairman and CEO, fastacash™. "The next few months will see fastacash™ position itself as a formidable player enabling social payments by creating a network of partners, all using a common platform to enable the transfer of value, with a fastalink, across any social network and messaging platform."

Vince added, "The continued support from our existing investors as well as the additional capital from new investors will help support our growth from a product development and deployment perspective. In addition to deploying in the various markets, we will continue to focus on innovating and building out our product."
Social Payment.
The social payments industry is seeing tremendous growth with Statista predicting that there will be an estimated 2.16 billion social network users worldwide, a 34.2% growth since 2012. The World Bank estimates global remittance flows will reach over $700 billion in 2016. fastacash, with its technology that allows secure payments that are agnostic to all social networks, is at the epicenter of this evolution of social payments.
The company plans to continue its aggressive expansion plans through partnerships in new markets. The focus is on bringing the solution to market with different partners and on acquiring consumers, with the ultimate goal to be a dominant player in the social payments industry.