Seoul Police Agency Develop an Application to Defend Against Smishing.
The Seoul Metropolitan Police Agency has recently announce that is has distributed a free-of-charge "SClean," an application which the agency developed, in order to prevent instances of smishing or SMS phishing. Sclean is a compound world for "smishing and "cleaner."
Works.
The application has been designed to shut off the application that have been confirmed to carry any malicious codes, and comes along with a warning messaging on the upper part of the screen that notifies the user of possible threats of personal information leakage and smishing, when the user clicks on to a website URL from smishing text.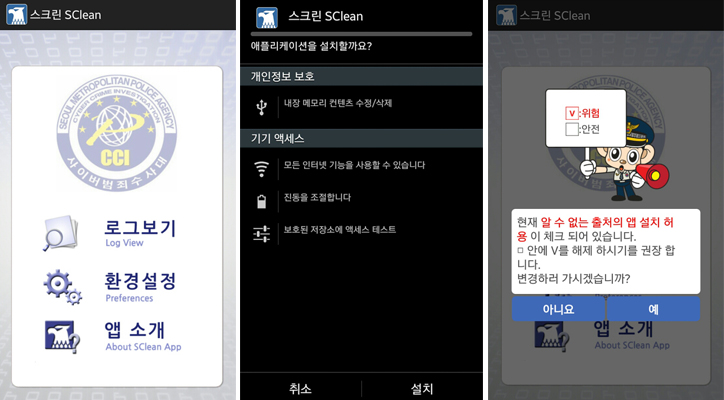 The safeguard application has also been fashioned to send a warning message before the installment process beings for the application that are distributed through unauthorized application stores such as Black Market and Ndoo Market, which have become established to distribute applications with malicious codes.
Smishing.
Smishing is a form of criminally activity by utilizing cell phone text messages that deliver malicious codes linked to a website URL, as a bait to induce people to divulge their personal information.
According to information provided by the National Police Agency, the cases of smishing have been reported up to 28,469 times in a total and caused almost 5.4 billion Won worth of damages during the previous year.
An official from the police agency advised,"It is best not to open at all the messages, website URLs, or files that are unidentified of their sources and erase these files immediately when seen."