Line's Earns $1.5 M From Its Successful Sticker Creator Market In One Month.
Popular Japanese messaging application Line, had previously opened up its own marketplace during April, allowing anyone to create and sell their own created stickers, with the sales beginning during May 8th. Recently, they have announced that the Line Creators Market has drawn over 80,000 creators and 12,000 sticker set since it opened up to user, a total of which 1,2000 have gone to sale.
Revenue.
During the first month since the service was launched live, 1.7 million stickers were sold in total, amount sales reaching over 150 million yen ($1.47 million). The average sales for the top 10 selling stickers on the market have manage to reach over 4.7 million yen, while 61.7 percent of sticker sets are available for purchase mange surpassed 10,000 yen in sales, which shows the users are allured by a wide range of stickers and not just the handful that are currently topping the ranks.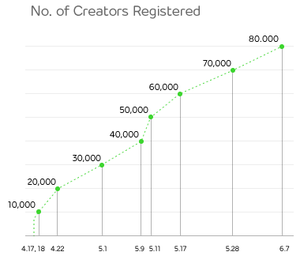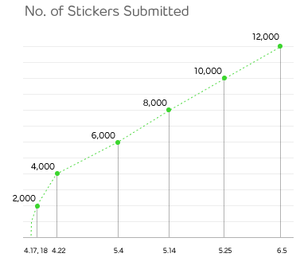 Basically, the way the market works is that the creator is able to sell sets of 40 stickers for 100 yen ( US$1) per set once the graphics approved by Line, and they shall receive 50 percent of the gained proceeds. Stickers from the Creators Market can only be purchased by users in an initial four countries, those being Indonesia, Taiwan, Thailand and of course japan, where Line's Web store are currently operational, but there are plans to expand the reach eventually.
Line has revealed that user who purchase stickers from the market have sent over 81 million messaging featuring creators stickers, which create a kind of organic marketing for the initiative.
The Japanese chatting company, which has be the leading figure on the concept of stickers, launched off this idea for democratizing stickers, on its platform an order to bid the acceleration of Line's global expansion with further localization. Sticker also contribute onto Line' s revenue, by selling over $10 million worth of stickers per month.
Selfie Sticker.
As of recent;y, Line has also launched a whole new iOS application that combines selfies with stickers. Line Selfie Stickers, which is its chosen name, allows the user tot take a picture of their very selves, and choose their favorite character from over 130 illustrations which include Line characters. After fitting their face into the illustration, users can also send their original sticker to their friends on Line.
With line continuously experimenting with all sorts of contest in a chance of further engaging their user and increasing the sticky icky of their platform, brands, will most likely become more convinced on the massive potential as a marketing platform.