KT Makes A Move While Other Competitors Are Still Suspended.
It seems that KT has begun to operate alone within Korea's mobile telecommunication market as the company is last runner for a series of suspension that had been ordered by the Ministry of Science, ICT and Future Planning, A huge change has been expected within the company dynamic.
Operation.
KT has become determined o make up for the lost during those 45 days they were under suspension by making some creating operations to encroach upon SK Telecom's 50 percent market share, which include the budget phone market share.
During the month of April, according to the telecom industry, KT had officially begun to start taking its turns to operate while other the other two competitors are still under suspension. Previously, SK Telecom and LG U+ had taken advantage of their time to operate. SK Telecom, which was the first runner, has signed on 144,120 subscribers under the mobile number portability rules while its was driving solo and LG U+ has enlisted more than 180,000 subscribers.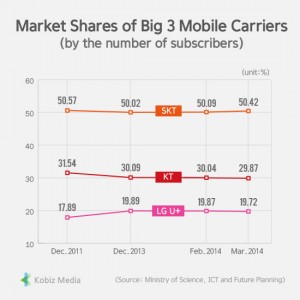 For that matter, KT had its hand full, while its competitors decided to take their turn in taking over the telecom market, has lost a total of 79,499 subscribers toward SK Telecom and 65,000 to LG U+. Do to this reason, KT's primary objective is currently to recover its market share back up to 30 percent which was broken down for the very first time since SK Telecom had merged with Shinsegi Telecom back during 2002.
Momentum.
According to a report written by the ICT Ministry on the mobile telecommunications market during March, KT's total number of subscribers was 16,473,385 or 29.86 percent in total. The industry is speculating that KT's market share has descended even more to 29.7 percent during LG U+'s period of sole operation.
In order to gain back those 140,000 subscribers, KT will be make a headstrong manuver on the market. KT thought up of various strategic deals including an unlimited LTE data plan and the "sponge plan" which allows reducing the mandatory time period up to one year upon changing the mobile device, and allowing very important customers to use its affiliate program benefits without getting their credit points deducted.
The main concern of the mobile telecom market regarding return of KT is whether SK Telecom will be able to keep a hold of its 50 percent market share.In the progress the market leader's sole operation, its market share soared from 50.09 percent to 50.42 percent, although it went down to 50.1 percent during the turn of LG U+. According to thistrend, the possibility still stands that KT could succeed in crushing SKT's 50 percent market share.