The French Cellar Savors $1 Million In Series A Funding.
A Singapore-based startup seems to be trying to disrupt the manner in which Asian wine Lovers are acquiring and appreciating their wine, has recently successfully raised a total of $1 million in Series A funding, and is currently being valued to be around $5 million after having only launched eight months ago.
Wine.
One of the first wine subscription e-commerce platform based in Asia that goes by the name of The French Cellar, allows its users to discover some highly exclusive French wines are normally not sold within the region and personally handpicked by sommelier Nicolas Rebut, a former chef sommelier  at two 3-starred Michelin restaurants, Louis XV based in Monaco and Le Meurice based in Paris. Upon subscription, members receive two different wines, along with wine testing notes, monthly, and they can also re-order any of their favorite bottles whenever they wish to, at discounted price.
This recent round of financial funding came from ESW Manage, a Singapore-based private equity firm. Post-money, EsW shall own over 20 percent stake in The French Cellar along with its founder and chairman Wong Yat Foo shall also be joining the startup as director.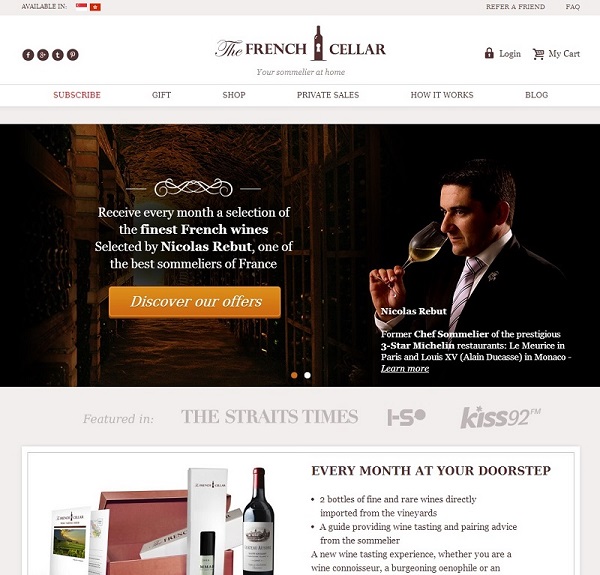 This arrives shortly after Jackie Lee, managing partner at Kyosei Ventures, Joined The French Cellar as chairman in March.
"Our immediate plans are to increase the adoption of wine subscription as the preferred way to consume wine in Singapore, as well as expand into Malaysia, Indonesia, China and Japan through joint ventures or greenfield projects," said Dr Morello.
He further elaborated that, demand for some of the best curated wine subscription and guided wine discovery is continuously growing within Asia.
"For one thing, wine lovers find it a challenge to choose their French wines because of the sheer volume of available choices. In France, there are currently over 300 appellations, and 115,000 winemakers producing more than seven billion bottles of wine yearly. This diversity is both an attraction and a problem."
Growth.
Even more so, mass affluents, the fastest growing segment in Asia, is increasingly desire to learn much more about their purchases as much as they desire high-quality products. The French Celler's wine discovery method, along with its tasting notes, shall allow for this, stated Dr. Morello.
Cultivating a community of wine lover is another thing that this startup has taken some extreme pride over. It holds at least one wine tasting session monthly, for members to discover some of the newest wines and network.
"We believe this is a happier and cooler way to run the business, rather than just a cold e-commerce website. When we flew Mr Rebut down for a recent wine tasting session to meet with our members, the response was electrifying," gushed Dr Morello.
The French Cellar currently claims over "hundreds of subscribers", and has garnered over $250,000 in revenue since October 2013. It recently manage to emerge as one of Asia's Top 50 startups at the Echelon 2014, one of the largest tech startup conference based in Asia, and shall be exhibiting at the event sometime later this week.