Emerging Tech Threatening English Speaking Teachers in Korea.
South Korea is very well known for its obsession with English Education. So invigorated on improving their English skills that there is a soaring mumber of 'English-only villages' across the nation, these include the Paju English Camp in Gyeonggi Province.
Education.
The volume of that nation's private English education market is approximately around 6 trillion won (US$ 6 billion) according to a local report, which is a large opportunity for those from English-speaking countries.
Being lucky enough to obtain an English teaching  job as a "native speaker" is regarded as one of the best jobs in the country if the person wishes to experience some teaching careers and enjoy traveling at the same time in the nation that as known for the Korea Wave.
Although, Korea is at the same time a country filled with all sorts of technological advancements that are being announced almost every day. So those who do wish to teach English in South Korean schools or cram schools should be a bet wary and not heavily rely on the position. As 'Human-like' interactive English learning software, although still undergoing development phase, has appeared in the scene threatening to replace the enviable job in the country's educational market.
Technology.
The Electronics and Telecommunications Research Institute (ETRI), one of South Korea's science and technology research centers, has recently announced that it has successfully manage to develop an artificial intelligence-based interactive education software which is dedicated to English learners.
There have been loads of similar software programs that have had their own boastful rights to claim their 'most human-like educational features.' However, ETRI's new software, named "GenieTutor" stands its apart from other similar program.
Among other things, GenieTutor can "exchange' talks with the user depending on the changing contextual situation, based on artificial intelligence technology. When a user vocalizes a grammatically wrong expression or pronunciation, the computer tutor will then evaluate the errors and correct them in giving it the most conspicuous edge in terms of improving English learning skills compared to others.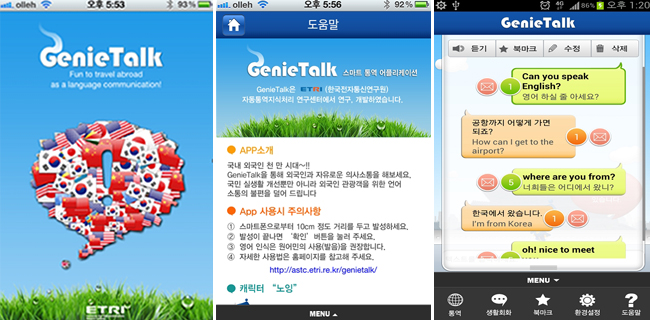 For that matter, there were some 'conversation-inducing' English learning software tools available in the market but they lacked in offering personalized feedback firsthand in a "natural' manner. This accomplishment was thanks to GenieTutor's voice rcognition and artificial intelligence technology which allows the computer to recognizes and understand human languages depending on distinct context situation. Even more so, the software can be best optimized for 'uniquely' Korea learners with distinct accent unlike other non-English speakers around the world.