Coherix and Jinan Tongluda Electrical Team Up to Distribute World-class Solutions.
A pioneer in development of advanced and powerful 3D sensors and software, Coherix Inc., and Tongluda Electrical Co (TLD), a leader within China offering a world-class industrial automation solutions, have recently joined in a strategic partnership that shall allow them to deliver the best-in-class precision machining technology.
Distribution.
TLD has dedicated itself  into offering its customers world-class equipment, precision machine tools and functional components, bearing products, lubricant oil & grease. This recent strategic distribution partnership with Coherix accelerates this to a much higher level. TLD has established itself in the field of industrial automation in China through its profound knowledge in manufacturing, equipment maintenance and dedicated services.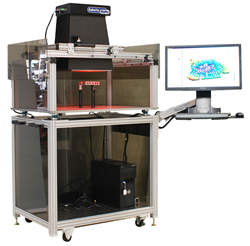 With this close collaboration TLD expects to widely expand acceptance and implementation of Coherix high-tech 3D vision products within the automotive, semiconductor, and electronics manufacturing industries in China.
Mr. Wang Xinfang, the General Manager of TLD, explains the unique benefits of the partnership. "TLD continues to be dedicated to help our customers improve quality, increase productivity, and lower costs. Coherix technology enhances our offerings".
Brief.
Coherix designs and delivers high-speed, high-definition, 3D metrology and inspection tools for product development and the management of manufacturing processes for the precision manufacturing and semiconductor industries. Based in Ann Arbor, Michigan the company has technical centers in Europe and the Asia Pacific region. Coherix products are being utilized around the world at companies such as Intel, Amkor, BorgWarner, Ford, Honda, Allison Transmission, Chrysler, General Motors, Micron, Infineon, John Deere, Volvo Technology Transfer and Aisin among others.
Jinan Tongluda Electrical Co. is a leader in providing world-class equipment, precision machine tools and functional components, bearing products, lubricant oil & grease to the industrial automation industry. TLD is located in Jinan, the Fountain City on the east coast of China. The industries it serves include precision machine tool, automotive manufacturing, metallurgy, electricity, and electronics.